The optimal placement can greatly improve the effectiveness of advertisements on your website. We collected the most useful areas so that you know where to place ads on your site and the ad sizes that the majority of the advertisers prefer.
These are the most popular areas for ad placement on a website:
Header: Advertisers often place banners or leaderboards (728×90) in the header of a website to capture the attention of the visitors as soon as they arrive.
Sidebar: Square or skyscraper ads (300×600) are placed in the sidebar which is usually on the right or left side of a web page.
In-content: Medium rectangle ads (300×250) are usually placed between articles or within the content of the page.
Footer: Banners or leaderboards (728×90) are regularly placed in the footer of a website too, where visitors may look before leaving the page.
When you make a decision about ad placement on your site, besides the popularity of the different ad sizes you should also pay attention to the layout of the site and the effect the newly created ad zones will have on the user experience of your visitors.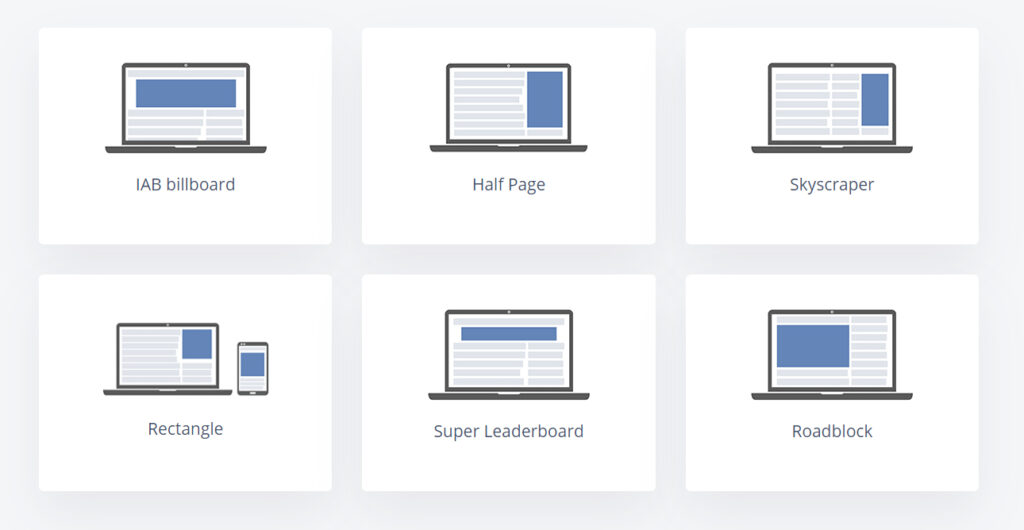 Ads Interactive has more than ten years of experience in ad placement and we've worked with hundreds different of publications – so feel free to contact us if you need help in creating ad zones and running ads on your site. All of our ads are lazy loaded so they won't slow down your site! You can read more about this technique here: https://adsinteractive.com/blog/2nd-topic-you-should-know-about-lazy-loading/
In this Google help answer you can find a list of every ad size, that the Ad Manager supports. If you visit our showcase page and select the standard tab, you'll find a collection of the most popular ad types with examples. This video can also give you several more great tips about ad placement:

Read every post about Ad Manager! 1 – Why is it important for publishers to have a Google Ad Manager account? 2 – Ad monetization: Ad manager vs. Adsense 3 – How to link your Adsense and Google Ad Manager account? 4 – What kinds of creatives are available in Google Ad Manager? 5 – Why an effective inventory structure is important for publishers? 6 – Where to place ads on your website? 7 – How to provide the best user experience for your readers? 8 – What is viewability and why is it important for publishers?
Would you like to know more? Are you interested in increasing the revenue from your site? Contact us - we can help you!
If you're already a member, and you have a question, contact our Customer Success Team. We will help you!